Return to Fort Mississauga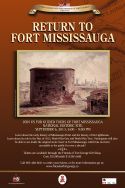 September 6, 2013
Join the Friends of Fort George and Parks Canada for an exclusive and up-close tour of Fort Mississauga National Historic Site. Immerse yourself in Niagara's early history as costumed interpreters guide you through the history of Mississauga Point. Learn about the first lighthouse on the Great Lakes and the role of Mississauga Point in the War of 1812 and both World Wars. As an added bonus, the doors to the stone tower will be opened and visitors will have a chance to see inside!
Guided tours will run from 6:00 pm to 9:00 pm. Tickets can be purchased in person at the Friends of Fort George Gift Shop or by phone (905-468-6621). The cost is $25 per adult, $15 for children (ages 6-16). Make sure to buy your tickets before they sell out!
All proceeds from this event will go toward supporting ongoing restoration work at Fort Mississauga National Historic Site.
http://www.friendsoffortgeorge.ca/events/
Seems a pricey,  but they don't open this fort very often , so I guess they feel thay can charge a premium.